Three new Laws went into effect in 2016 that impact Rental Housing directly; one of these deals with Bedbugs, the others are "Fair Housing" and Security Deposits. On Tuesday 11-15-2015, CTPOA will host a networking and meet-up for the housing community at SAN MARINOS RESTAURANT, 111 Thomaston Avenue in Waterbury from 5:30 till 7:00pm followed by an update on the new laws.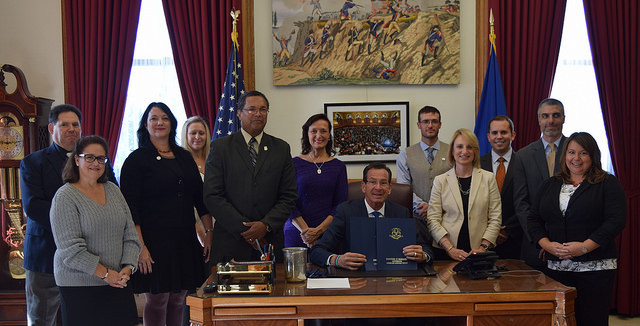 Photo of CTPOA President Bob DeCosmo, Rep. Larry Butler and other Housing Advocates at the October 11th Governor's "Bill Signing Ceremony" for new Housing laws.
At 7:00pm, there will be a presentation from Mike Morin of Bedbug Finders LLC and he will detail some of the highlights and requirements for landlords when exterminating Bedbugs. Additionally, CTPOA president Bob De Cosmo will provide an update on the other requirements imposed upon Connecticut landlords from this past Legislative session that impact leases and closings. Tom Fernandes of maximum Home Performance will detail the benefits of a cost saving energy audit (which you can ordered on our website)
Paid CTPOA members can attend for free and also view the new laws by logging into our website and visiting "Laws & Statutes," then clicking on "New Laws – 2016." The public is invited to this event and there is a $10 charge for non-members to help cover the costs of the food. Please register by visiting the "Events" section on our website.