Housing Stability
Few would dispute that housing is an essential human need. Yet, these evictions often lead to homelessness, leave a scar on the tenant's credit record, and fail to address underlying health and safety conditions that will be inherited by the next tenant in that unit. Spencer Wells, Baltimore Eviction Rate among Highest in Country: A Study of Rent Court, Nonprofit Quarterly, December 10, 2015, https://nonprofitquarterly.org/2015/12/10/baltimore-eviction-rate-among-highest-in-country-a-study-of-rentcourt/
Without counsel, tenants face tremendous obstacles to defend their rights in eviction proceedings, such as the power imbalance between the parties, tenants' lack of information about their rights, and barriers such as low literacy, mental illness, and limited English proficiency. As a result, tenants without counsel do not fare well in the Court process, too often entering one-sided agreements that inevitably and unnecessarily result in eviction. Eric Angel, D.C. Bar Foundation Funds New Project to Provide Counsel to Tenants in Subsidized Housing, Legal Aid Society: Making Justice Real (March 19, 2015), http://www.makingjusticereal.org/d-c-barfoundation-funds-new-project-to-provide-counsel-to-tenants-in-subsidized-housing.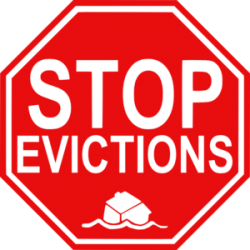 The impact of even short-term homelessness and housing insecurity can be devastating. Children who experience homelessness are less likely to graduate from high school or attain the same level of education as other children, "leading to long-term losses in productivity and earning potential." Child development experts have noted the important role of government programs – along with healthy and secure relationships with parents – in supporting children's well-being. Financial assistance to families in the form of cash payments or subsidized housing, childcare, or food, all help to alleviate the immediate effects of instability. But not all families are eligible for this public safety net, and not all families entitled to public housing can secure and maintain it without the help of lawyers.
This can lead to serious worsening of living conditions or even homelessness. Living without a home or in unhealthy or unsafe conditions "can lead to stress, loss of productivity or work altogether, negative impacts on children and their education, and so on." As Spencer Wells argued, "eviction is both a literal loss of a home and a metaphorical separation of families from the economic mainstream of the U.S., a form of secular ostracism." The social costs of substandard housing, rental instability, and homelessness outlined by Matthew Desmond in his recent book, Evicted, are multiple:
Health care costs to treat stress-related diseases such as depression, suicide, and interpersonal violence;
Health care costs to treat environmental diseases such as asthma, lead poisoning, and mold-related infections;
Low school achievement and employment opportunity;
Neighborhood deterioration and the cost of code enforcement and blight removal;
Social service expenses associated with the provision of short-term housing, home search services, and relocation;
Remedial schooling;
Criminal justice enforcement.
Governmental spending to support housing stability saves money in the long run. Rent subsidies, for example, reduce the cost of local government by reducing the number of non-payment evictions and homeless services. Keeping families out of housing court and children out of homeless shelters improves school attendance and performance. Robust school attendance rates often benefit local schools as State funding formulas reward truancy prevention. Complementing public support for housing with legal counsel to represent 13 residents in housing and foreclosure matters would further enhance the benefits society and families derive from homelessness prevention.
New York City has achieved substantial fiscal savings from providing counsel in housing matters. The first annual impact report from New York's Office of Civil Justice (OCJ) found that "27 percent of tenants facing an eviction case in court were represented by a lawyer in the past year, compared to only 1 percent in 2013." The lawyers' work is having a positive impact, as "residential evictions by city marshals declined 24 percent in 2015 compared to 2013, even though the number of eviction cases filed remained relatively stable."
Citing a study by the Right to Counsel Coalition, Oscar Perry Abello argues that although "the city might pay $3,000 for representation that keeps a family in their existing apartment, if instead they're evicted and end up cycling in and out of homeless shelters, that same family might cost the city more than $43,000 per year." This disparity in costs means that a New York City program providing counsel in housing court would not only pay for itself (saving the city homeless shelter, healthcare, and other costs), it could save an additional $320 million in city spending.
In Maryland, a State commission estimated that the State's legal aid organizations saved the State $3.6 million in shelter costs by helping clients avoid homelessness. In Massachusetts, research found that the monetary benefits of representing eligible beneficiaries in eviction and foreclosure proceedings far outweigh the costs of providing these services. This means that for every dollar spent on counsel in eviction and foreclosure cases, the Commonwealth saves more than two dollars on the costs associated with providing other services such as shelter, healthcare, and law enforcement.