HUD has implemented its new rule on children's blood lead levels and it's now in effect. HUD's New Lead Regulation Press Release
Immediately, any child living in a unit receiving Section-8 assistance with an "elevated" blood lead level of 5 or more micro-grams per deciliter (5 ug/dl), down from 20 ug/dl, the following must occur within 30 days, if not, the owner will have their Section-8 rental assistance terminated.
owner notified by email and mail
the unit inspected by a licensed lead inspector –

within 15 days after notice sent

a lead abatement and management plan drawn up
a certified lead abatement contractor hired
work completed
unit re-inspected
conditions cleared and documented –

within 30 days after notice sent
We are also concerned that the lead levels in our Country have fallen considerably and are at such low levels now that we should be celebrating a victory for eradicating childhood elevated lead levels instead it appears we're trying to eliminate a natural element used for thousands of years from our planet, which is an impossibility….consider this chart.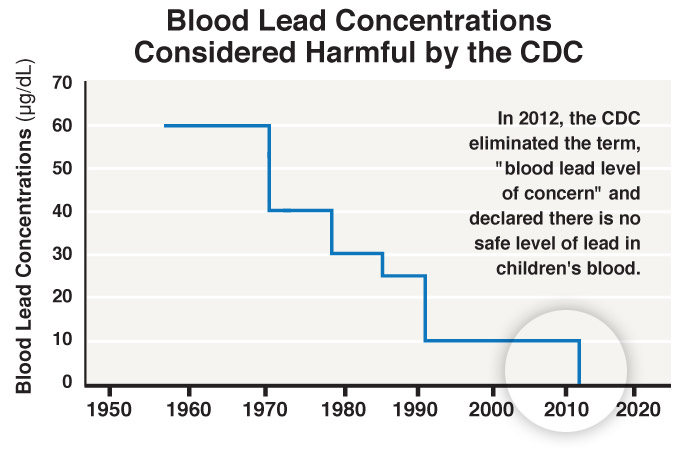 The good news for now is the CT Department of Public Health (CT-DPH) has not moved off its current abatement levels. Currently any owner with a child residing in their property with a blood lead level of 20 ug/dl is immediately issued an abatement order. If a child has a 15 ug/dl level, a second blood test is required and if that also is at 15 or higher, then that owner is issued an abatement order. However, there are some indications that CT-DPH is looking to lower its levels also as seen here, 2018 Lead Action Agenda_updated_7-2-18
The CTPOA has already taken action to help protect landlords and met with D'Amelia & Associates, the administrator for Connecticut's Housing Choice Program, representatives from Day Star inspections, spoken with State Legislators and is discussing this new rule with local Housing Authorities that manage the Federal Housing Choice Voucher programs in larger cities.
We are trying to work with housing agencies from both landlord and tenant groups to make these new rules operable in Connecticut. No property owner should be penalized by having their rental payments stop because of a new government policy that everyone so far agrees, 30 days is just unrealistic to get all the requirements completed.